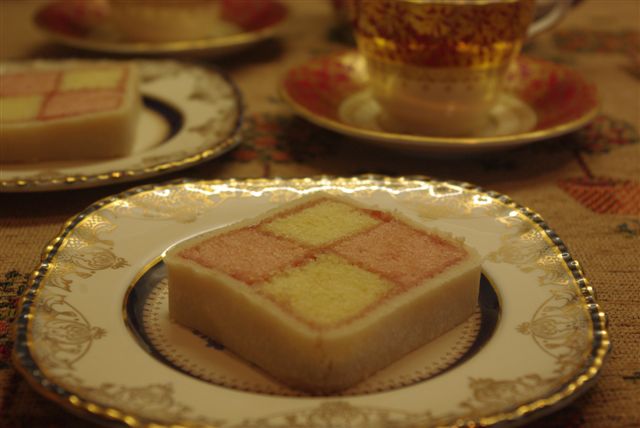 Beat the butter and caster sugar together until light and fluffy. Sift the flour well. Add the eggs one at a time with a spoonful of the flour. Finally add the flour and combine thoroughly. For the second batch add pink colouring to the desired effect. Bake one batch, remove when cooled then bake the second pink batch.
Combine the almonds and sugar in a bowl.
Add the lemon juice and the sherry.
Beat the egg white to break it up and use enough to combine the mixture to a paste.
Wrap it in cling film and refrigerate overnight. This makes it less sticky and easier to work with.
For the assembly of the cake you will need some jam. You can use any flavour but it is best to sieve it to remove bits and any seeds.
Trim the cake so all the sides are square and cut it into long bars. Assemble four bars together alternating the pink and plain colours using the jam to make them stick.
Roll out the marzipan with enough width to accommodate the cake and about the thickness of a pound coin. Spread one side of the assembled cake with jam and place it across the marzipan near the end nearest you. Trim the end of the marzipan where the cake sits and trim the edges to the size of the cake. Spread the other three sides of the cake with jam and roll it forwards wrapping it in the marzipan. When it is completely encased trim the last edge of the marzipan. It is now ready to slice.

Two quantities of the following sponge mixture.
175g / 6 oz butter
175g / 6 oz caster sugar
3 eggs
175g / 6 oz self raising flour
For the marzipan
150g / 5 oz ground almonds
150g / 5 oz icing sugar
1 teaspoon lemon juice
1 teaspoon sherry
A few drops of almond essence
1 small egg white
One of those cakes that needs to be re-discovered. Perfect sponge, jam and marzipan – what more could you ask. These quantities were worked out using a loaf tin 7×6 cm x 26 cm long with a capacity of 2 pints